Portfolio of Karolina Węgrzyn 'Sirielle'
Art for Children
Cosmic Dreams
"Dreams" themed works for 2018 Original Illustration Exhibition
of
Chen Bochui International Children's Literature Award in Shanghai, China.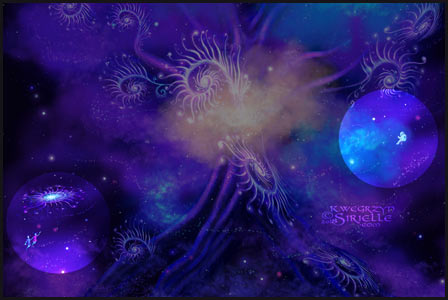 The tree scenes represent dreams, wishes and hope. The "Reach for the Stars" is about hope - don't lose hope, never give up your dreams. "An Astronaut, My Childhood Dream" is my own childhood dream, symbolically becoming true through this illustration. The "Tree of Dreams" represents dreams, wishes and hopes. Children heroes from the two other illustrations are visible among stars on the opposite sides of the tree, going through time and space towards it to reach their dreams.
Different astronaut variants: Polish astronaut (Astronautka) and an astronaut without a country flag.
Prints
I offer prints on demand in my Redbubble shop. For the cosmic series I recommend photographic prints on Kodak Endura Professional paper to keep the vivid colors, especially cyans. Choose the metallic finish for more dimension and cosmic feel. It also results in deeper darks and blacks, so if you want a brighter image choose the luster finish. If you want more traditional feel or less saturated colors choose art print, canvas print, art board or any other option. Remember that the final result might be darker and different in color than what you see on your computer screen.